Actually, it's a bit boring. This is the third time I've talked about Stata as TA… The only difference is that this time it is for graduate students, with only 10 listeners. Following pictures are the screenshots of my slide.
Originally, I wanted to write a detailed handout, but then I felt bored to write any handout, so there was no handout, you can find previous handouts on my website > Downloads.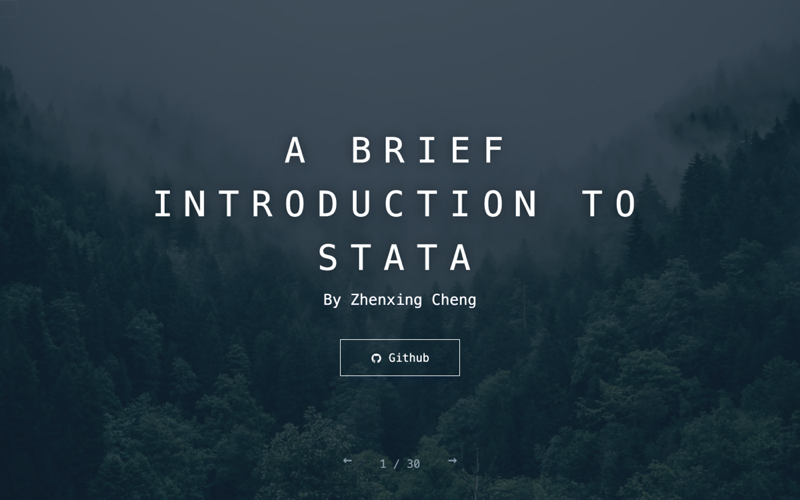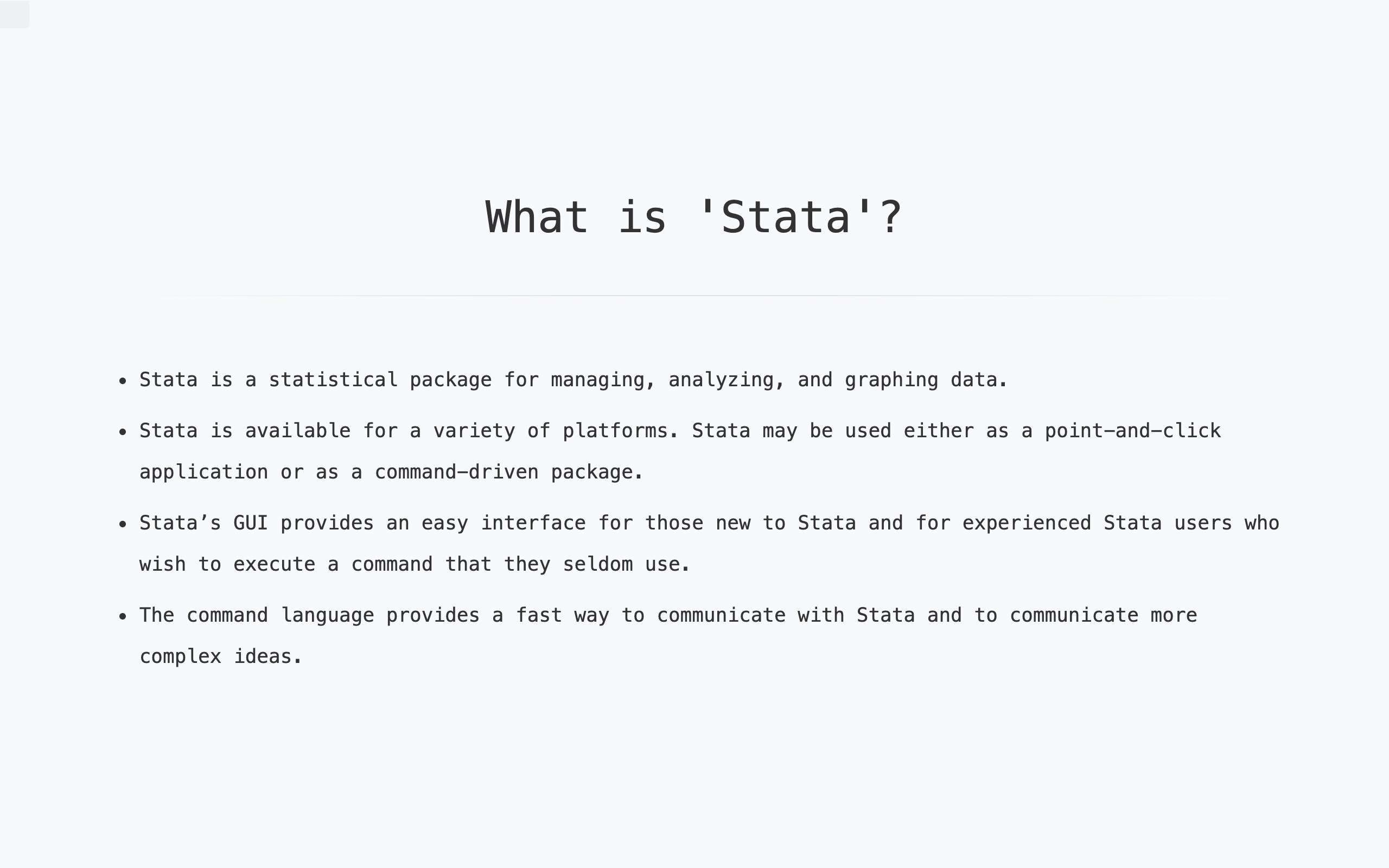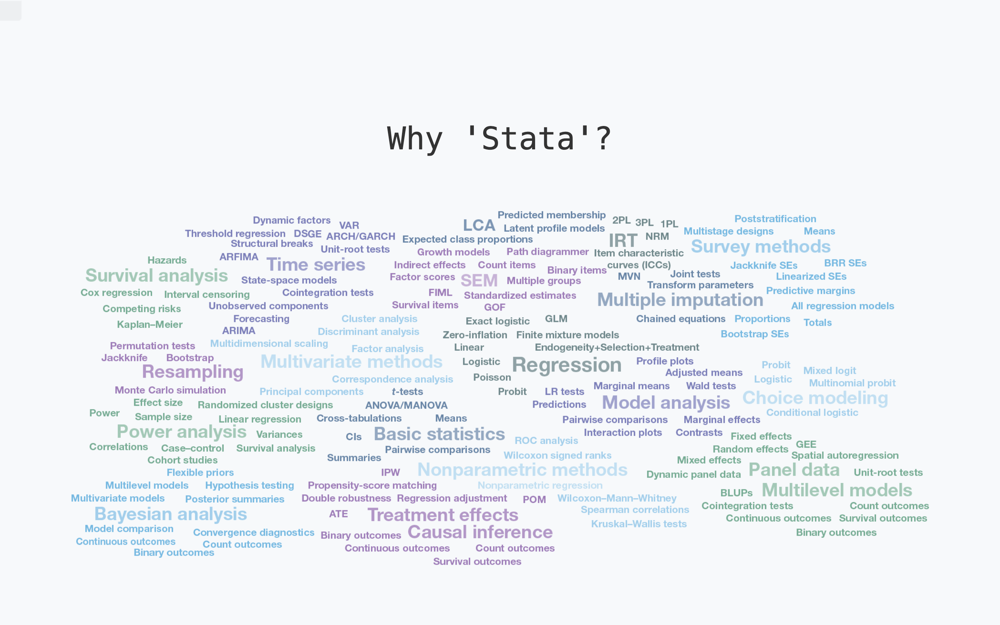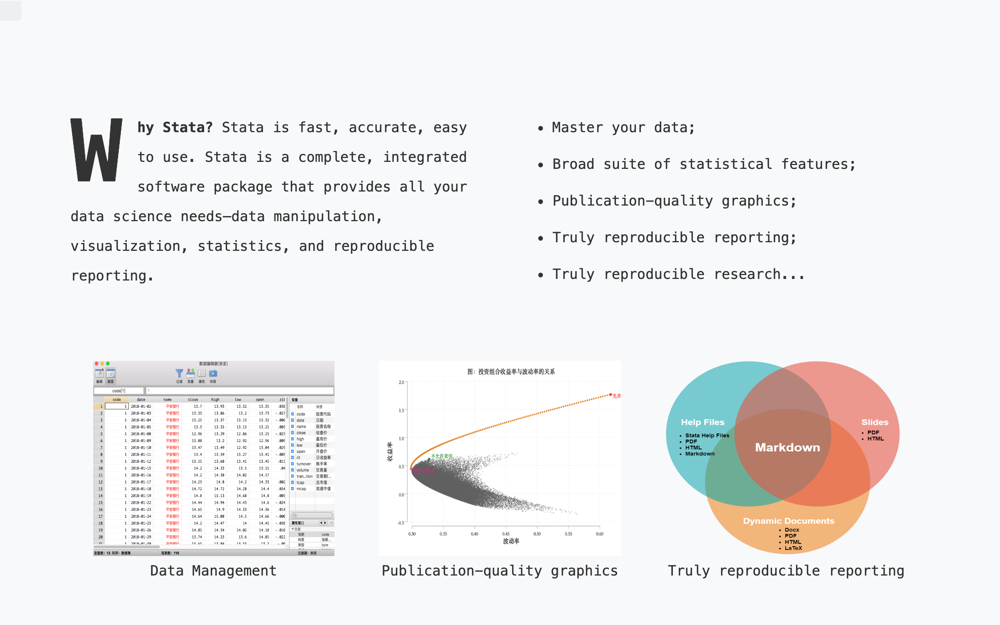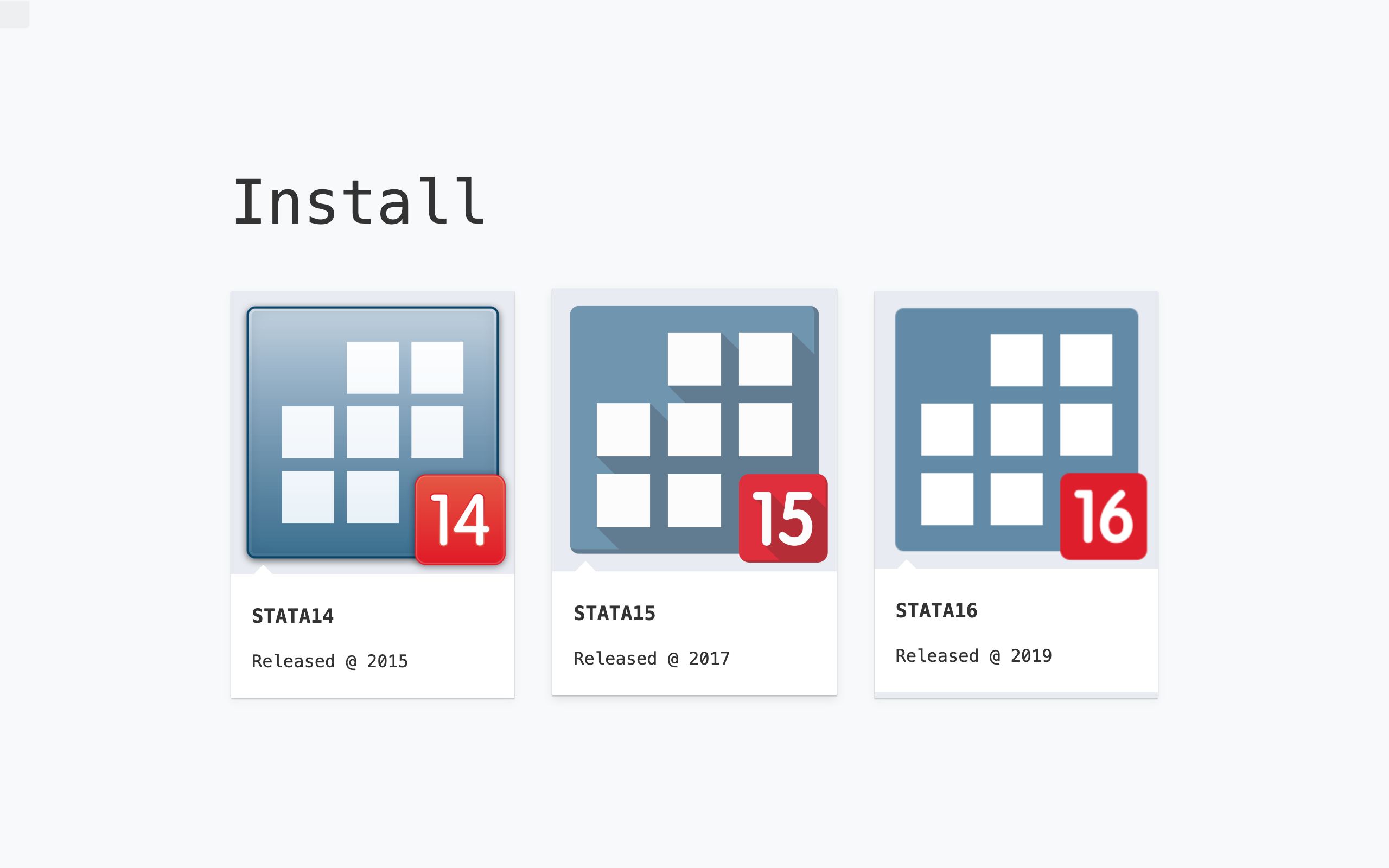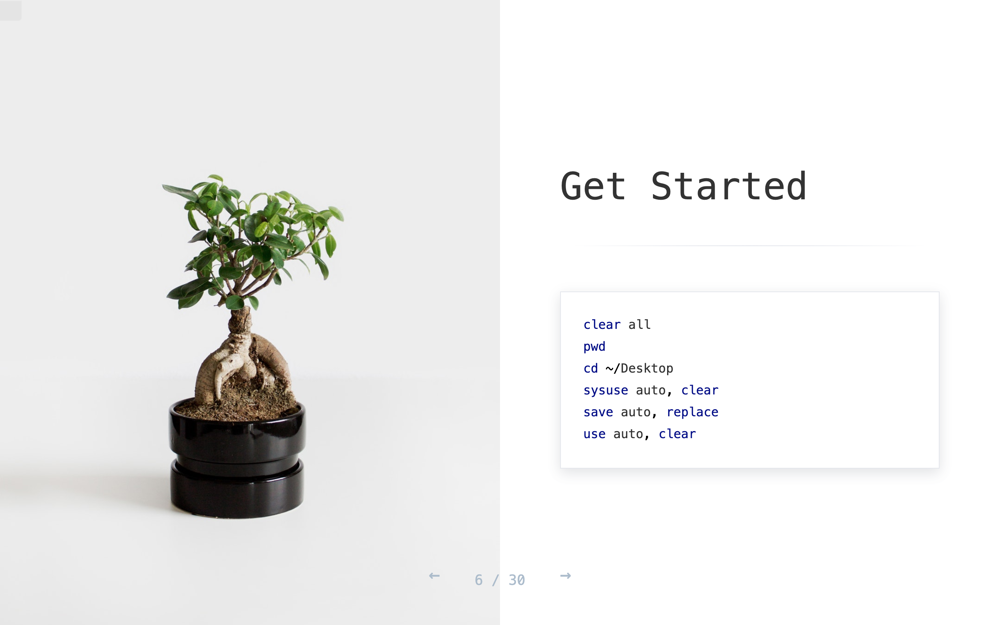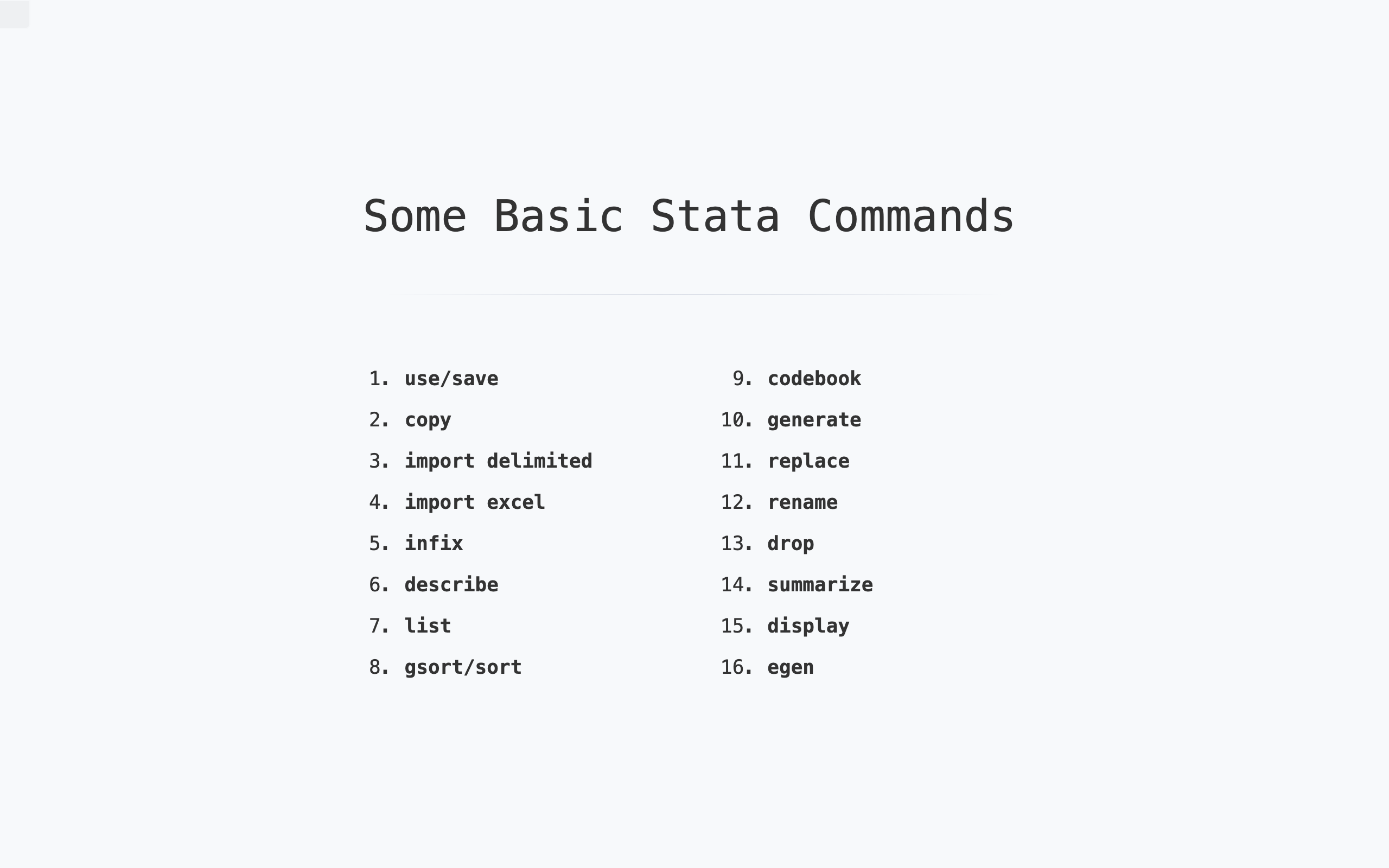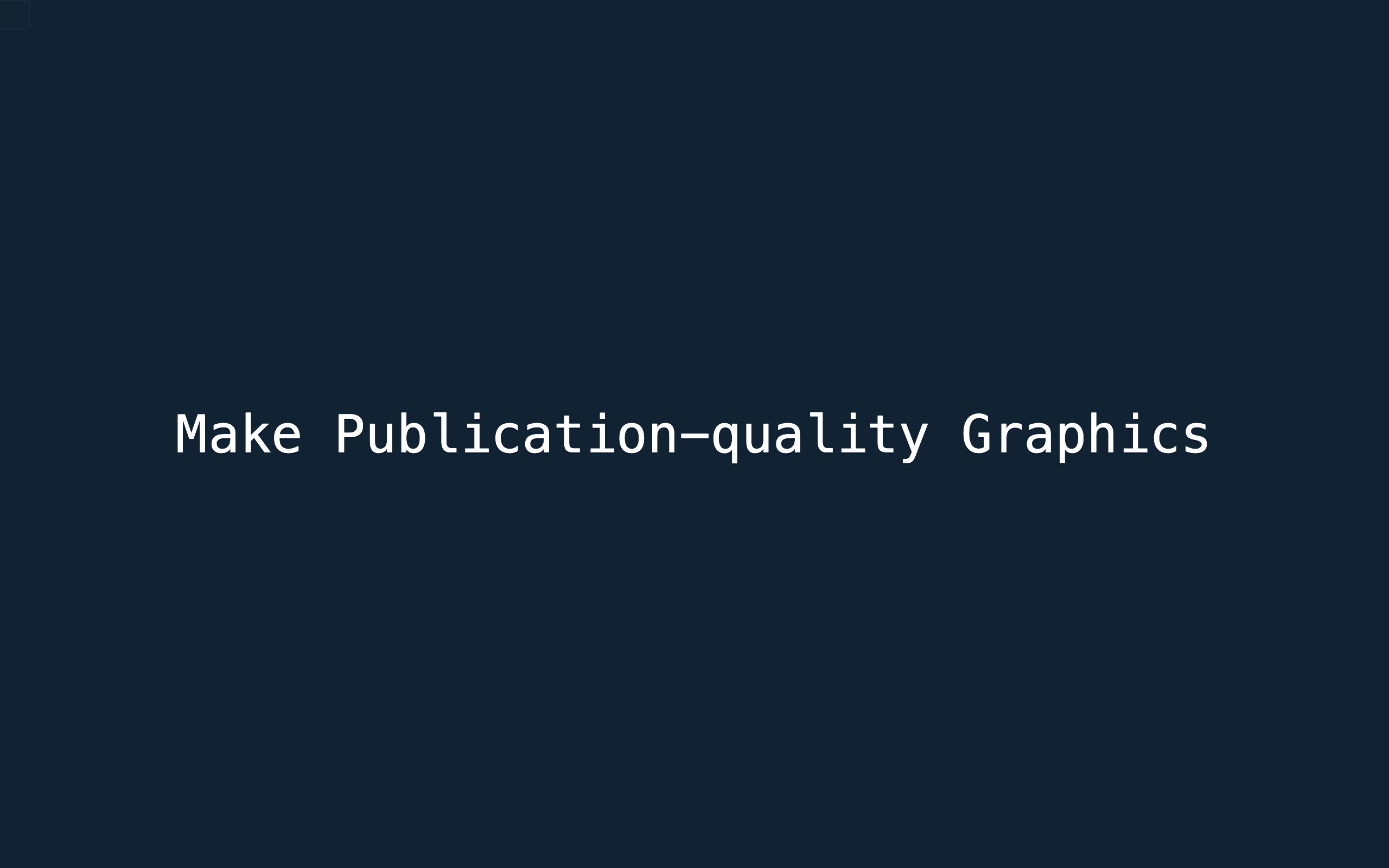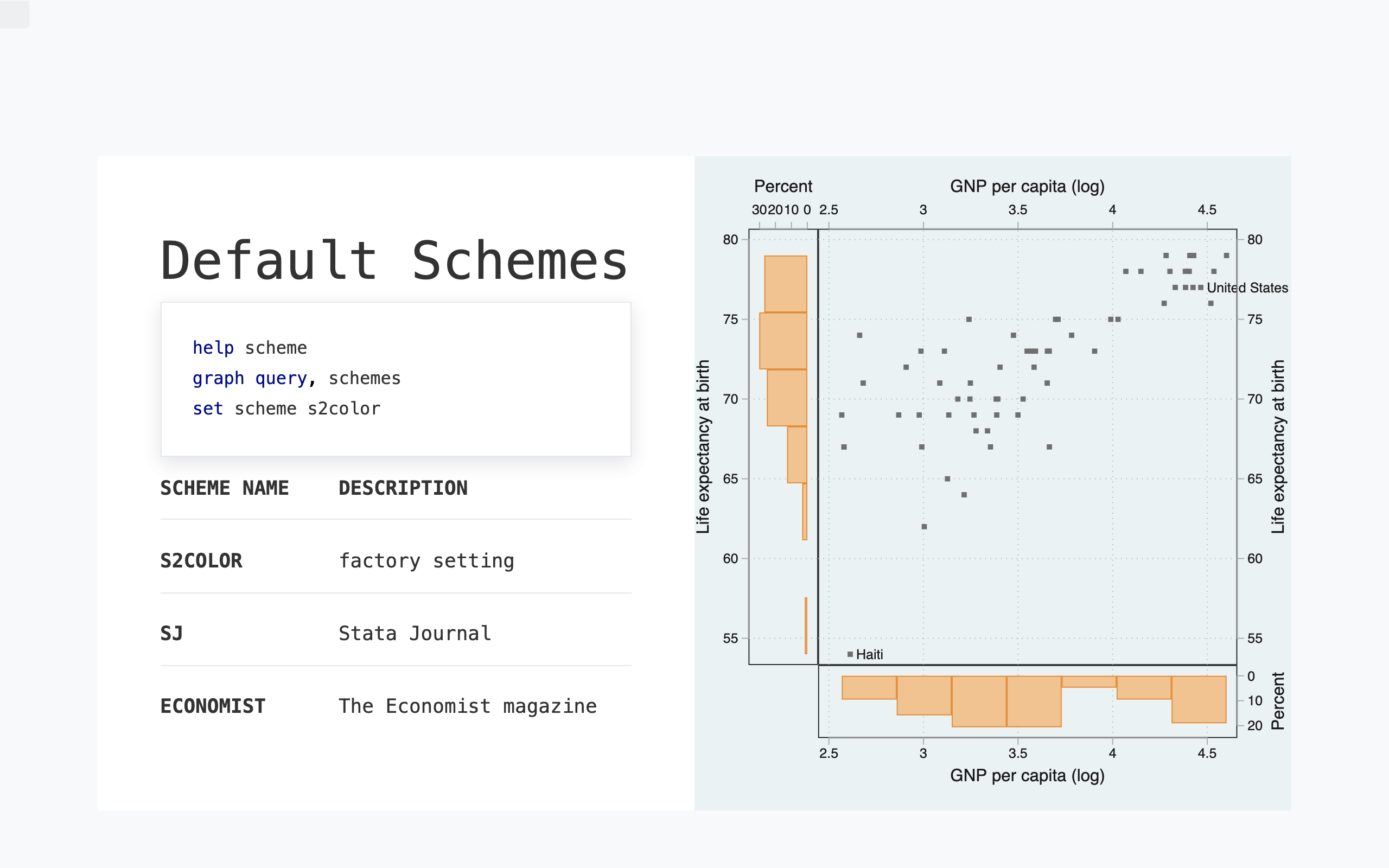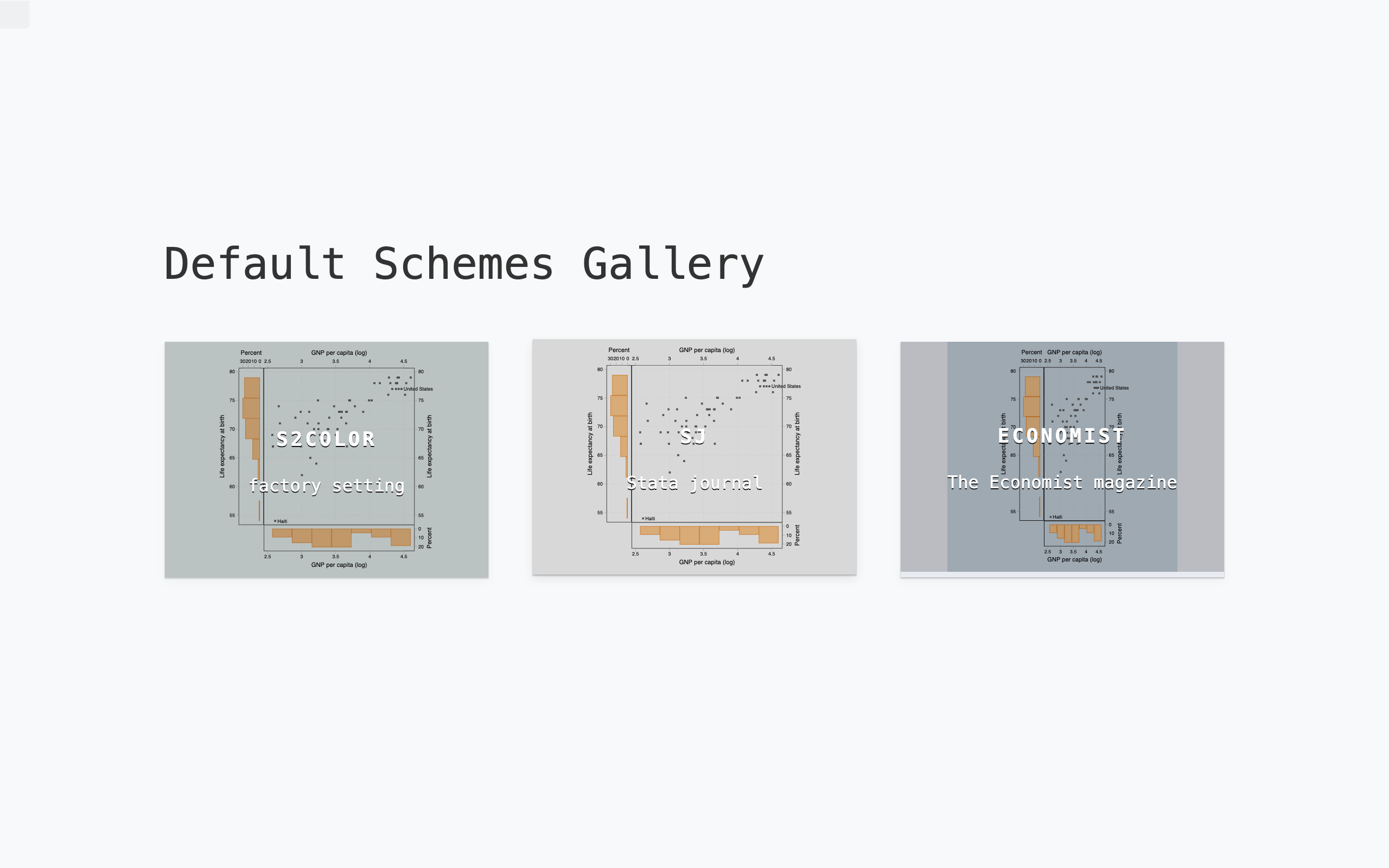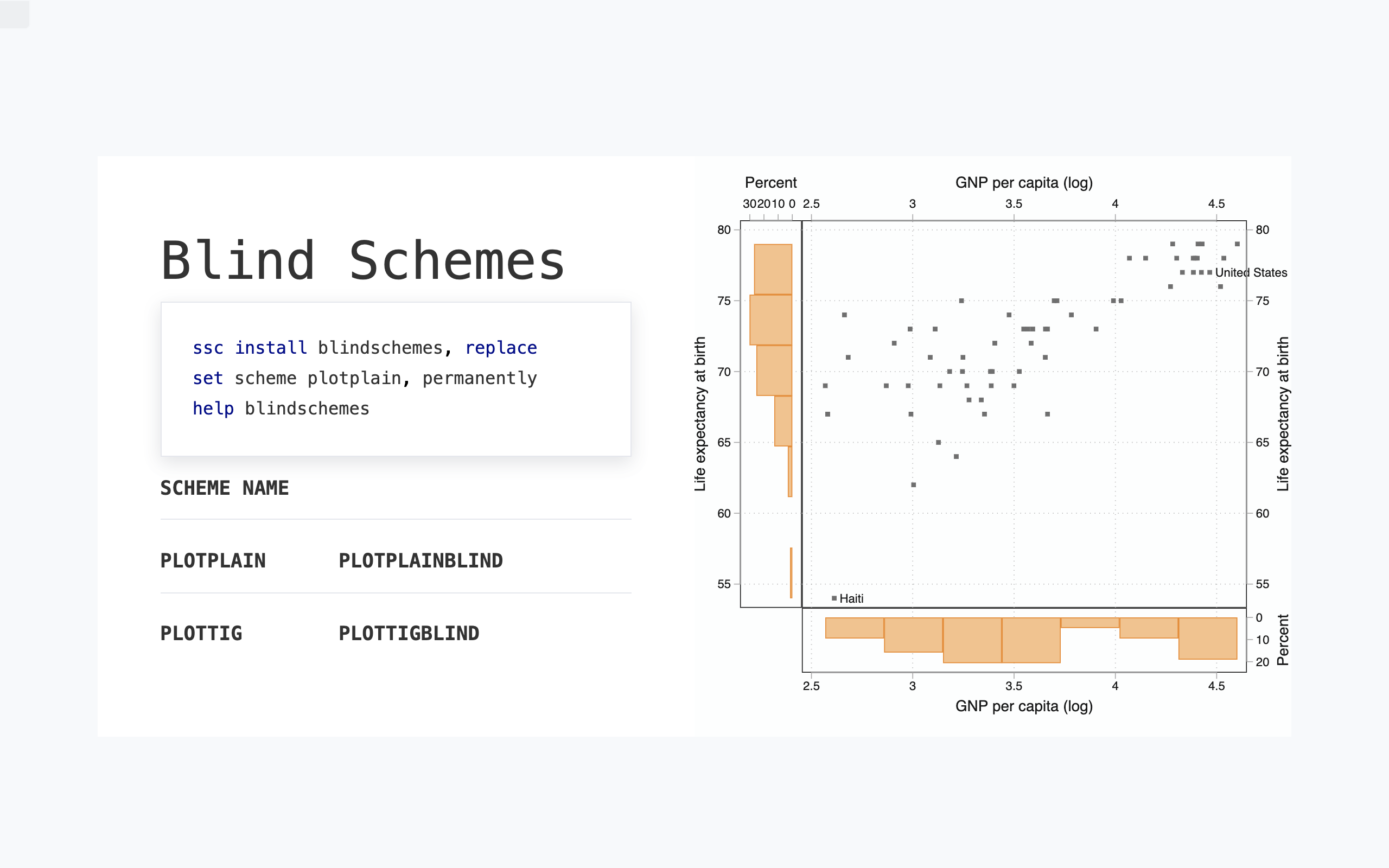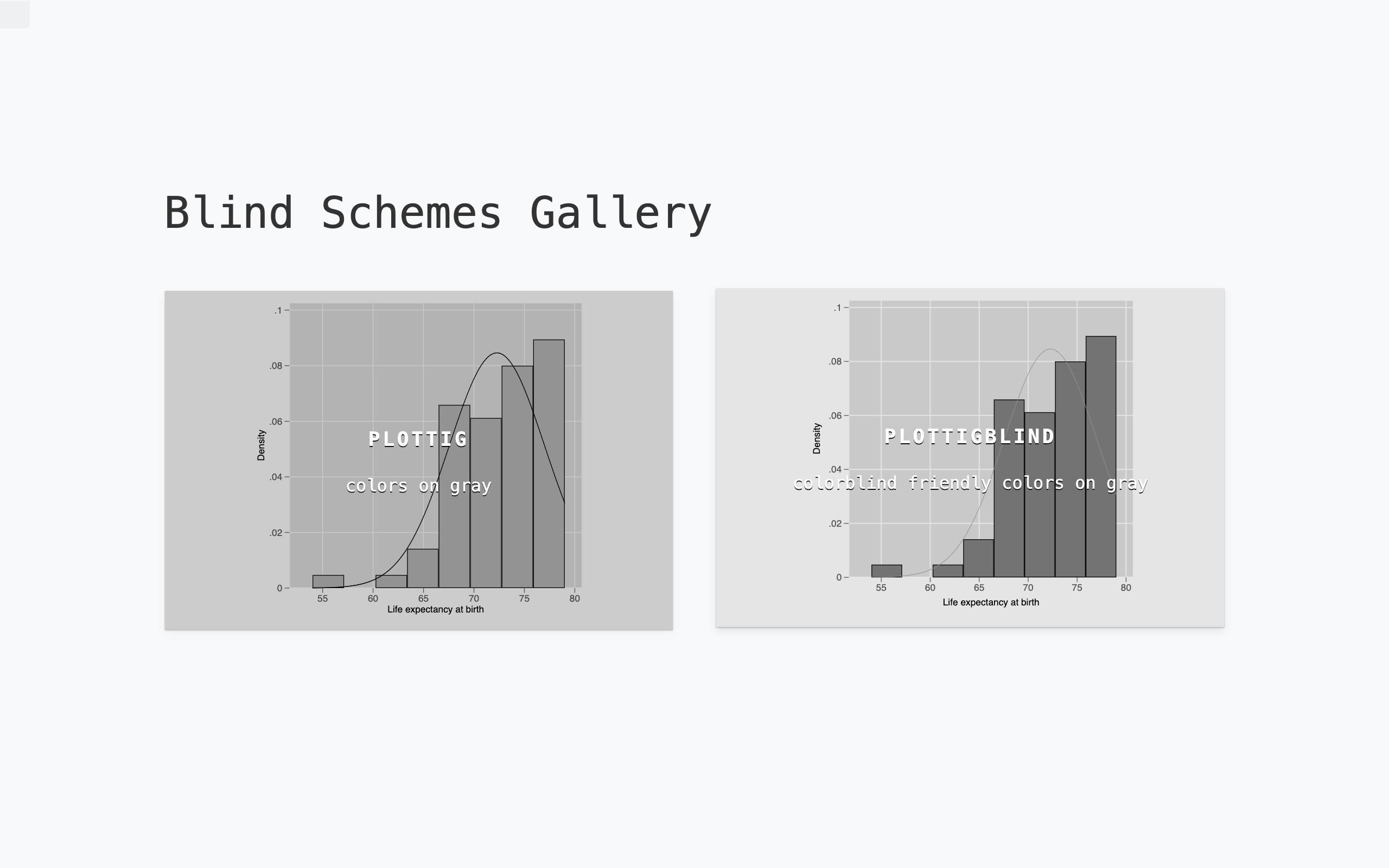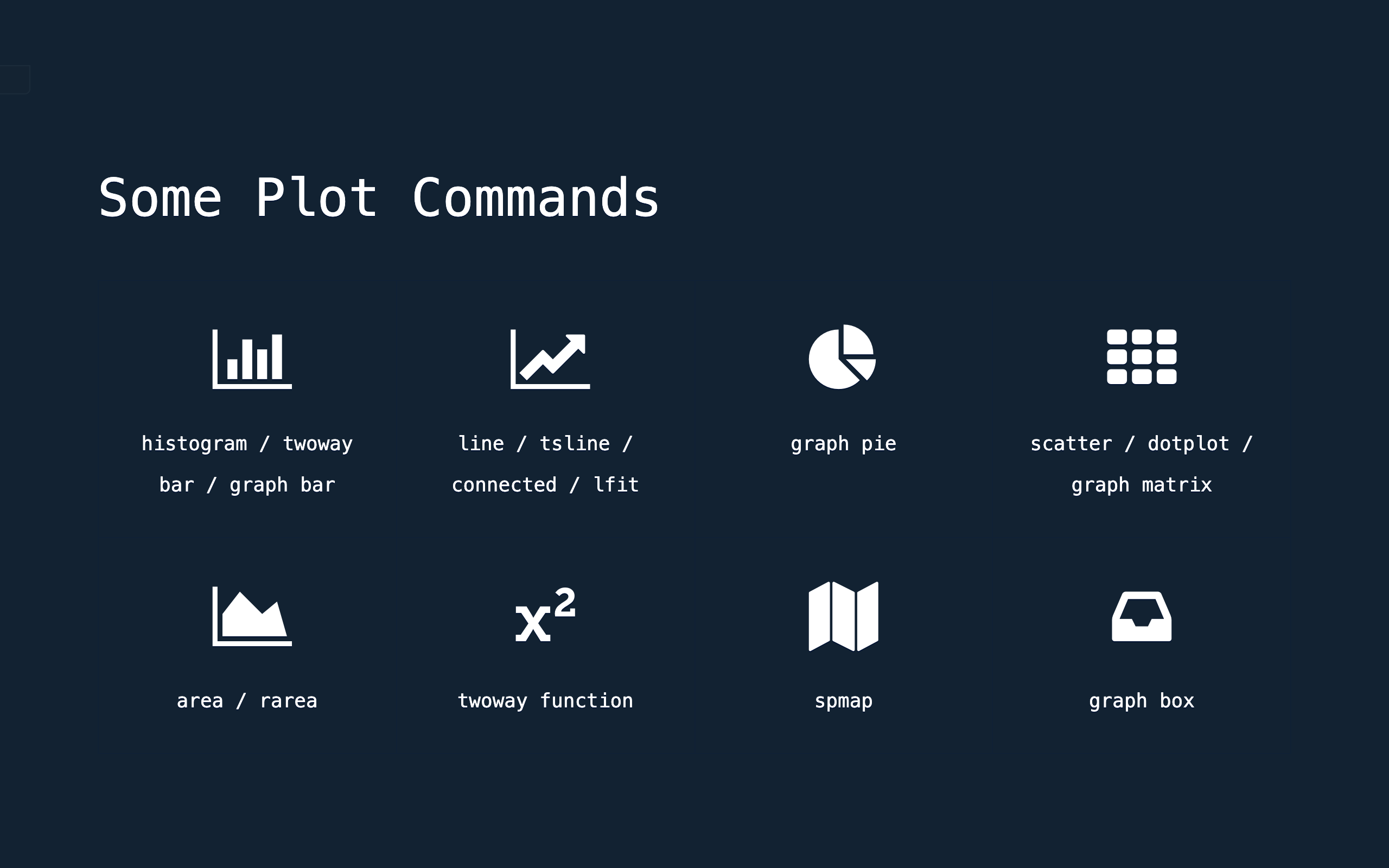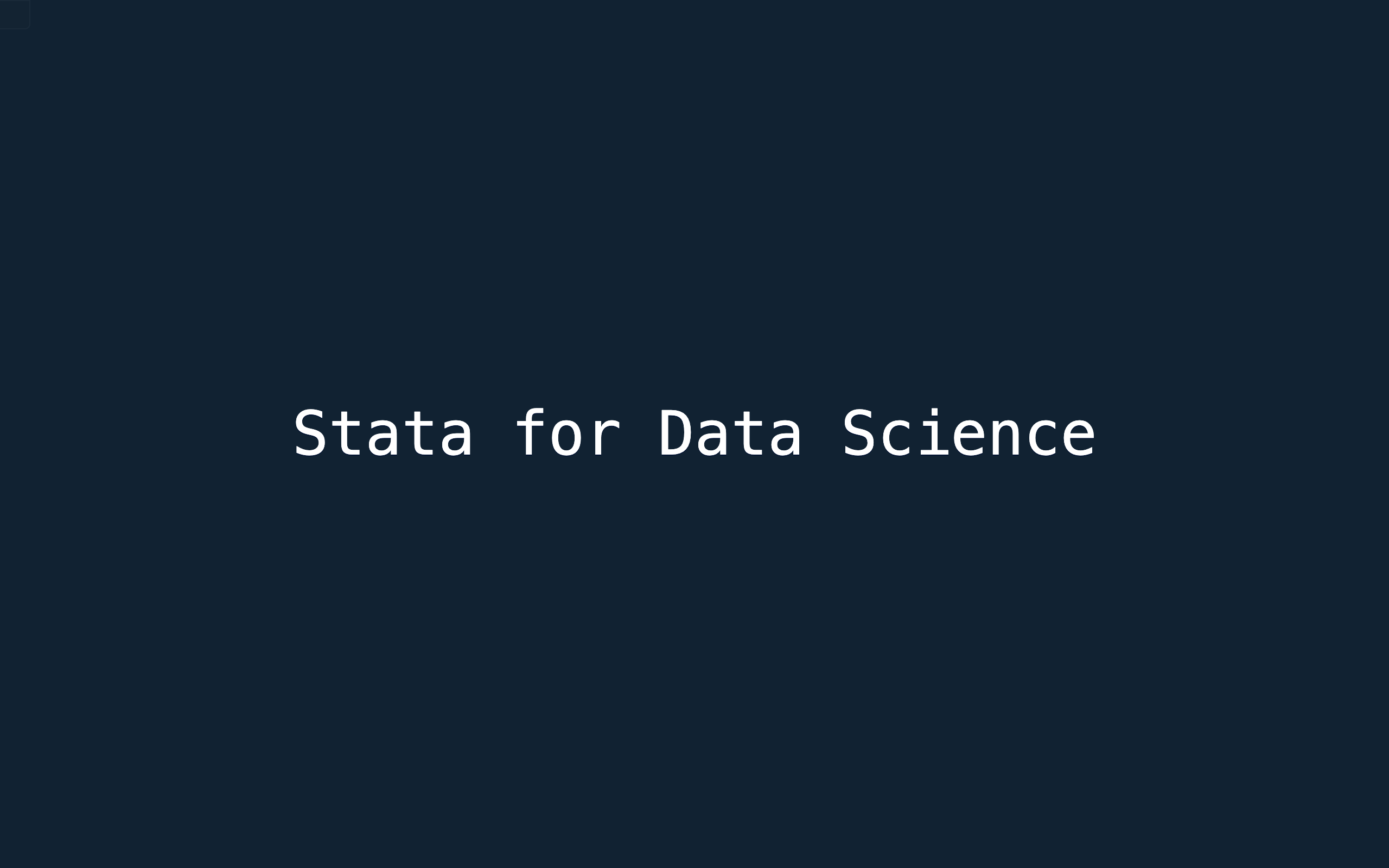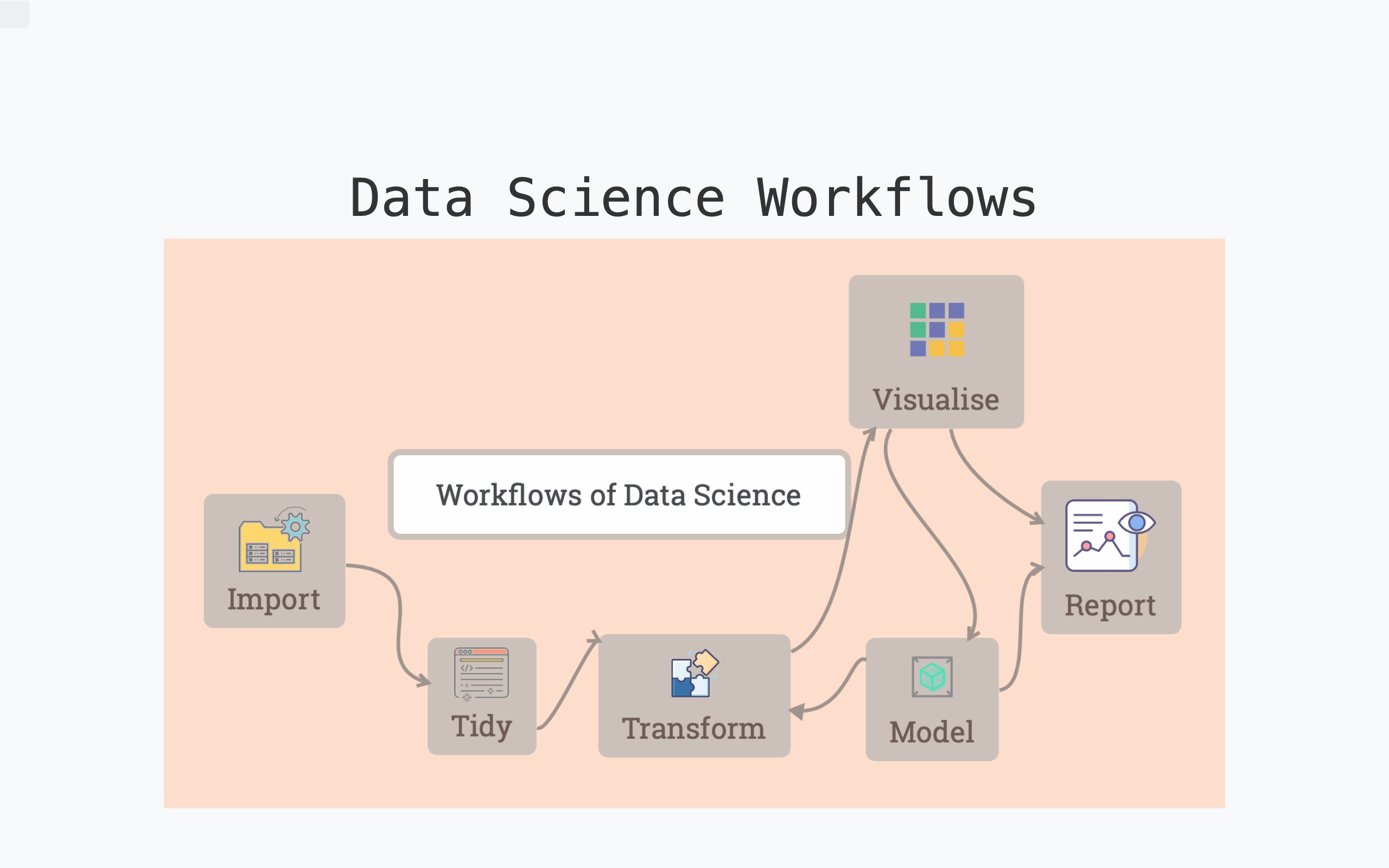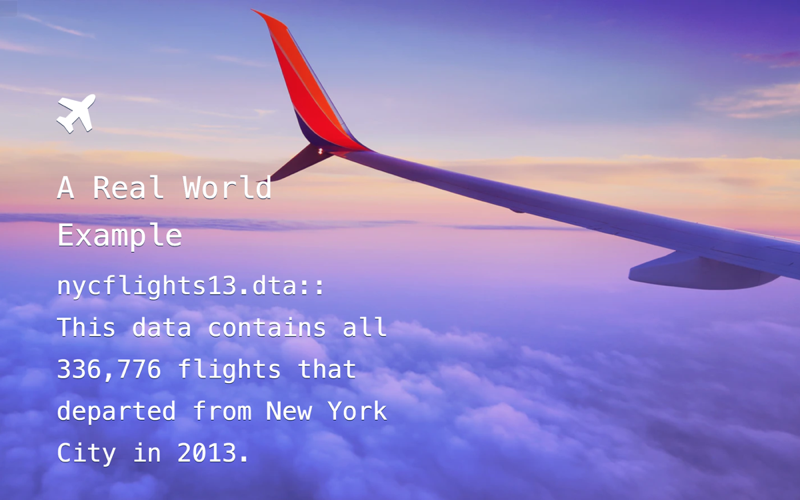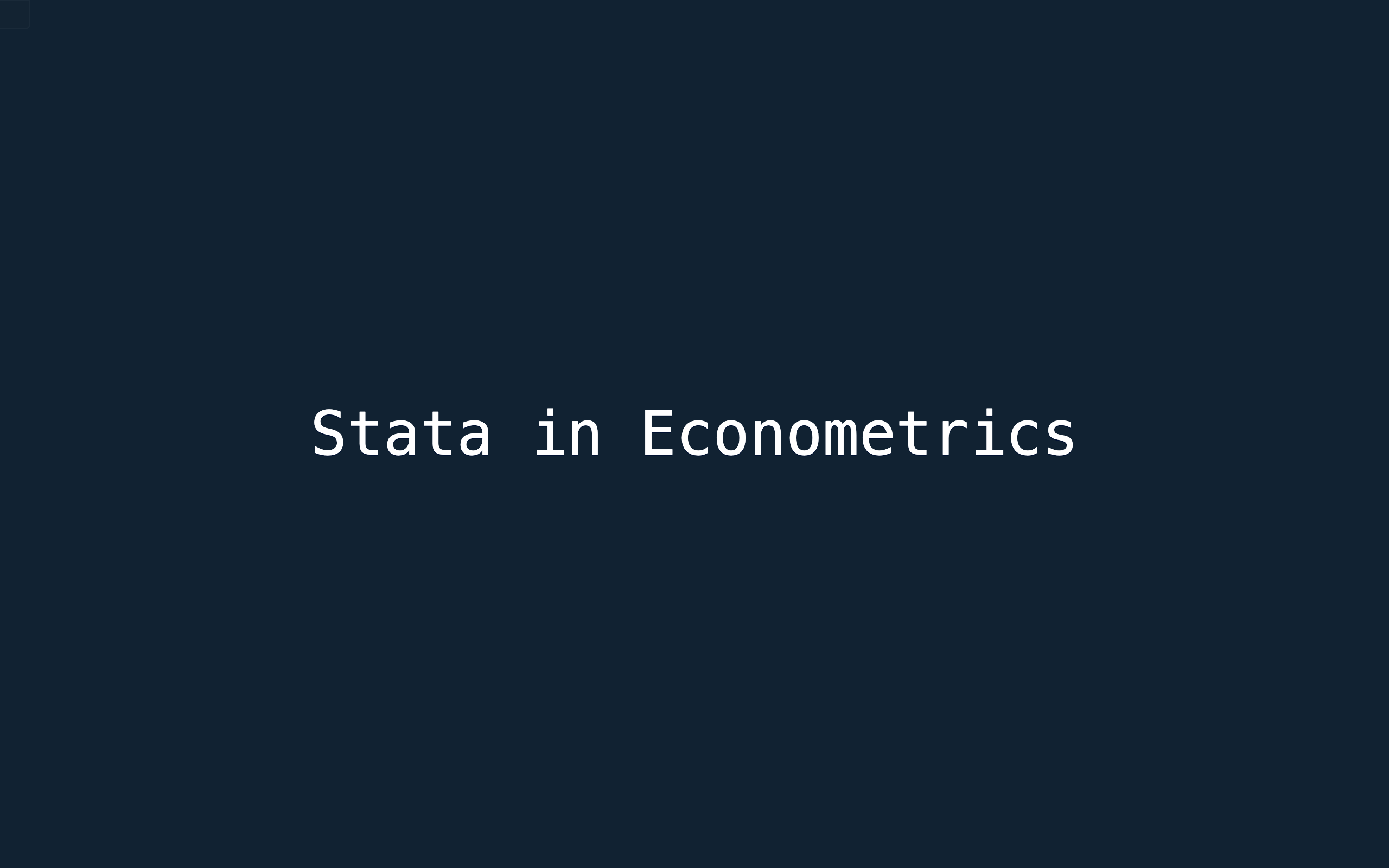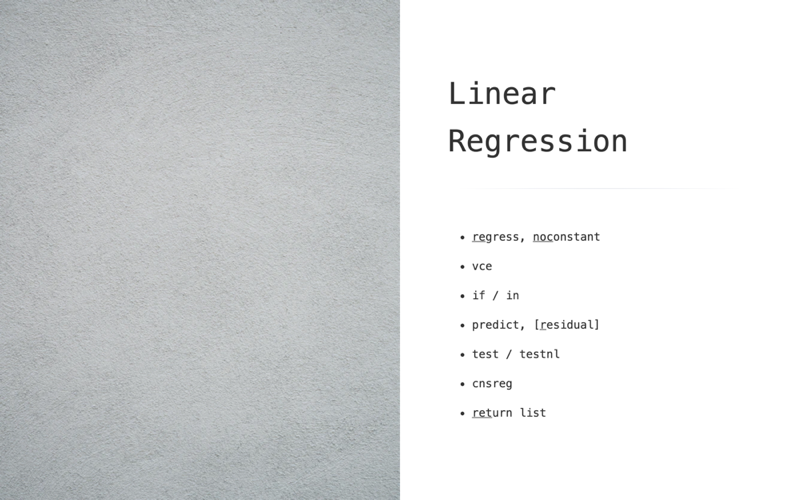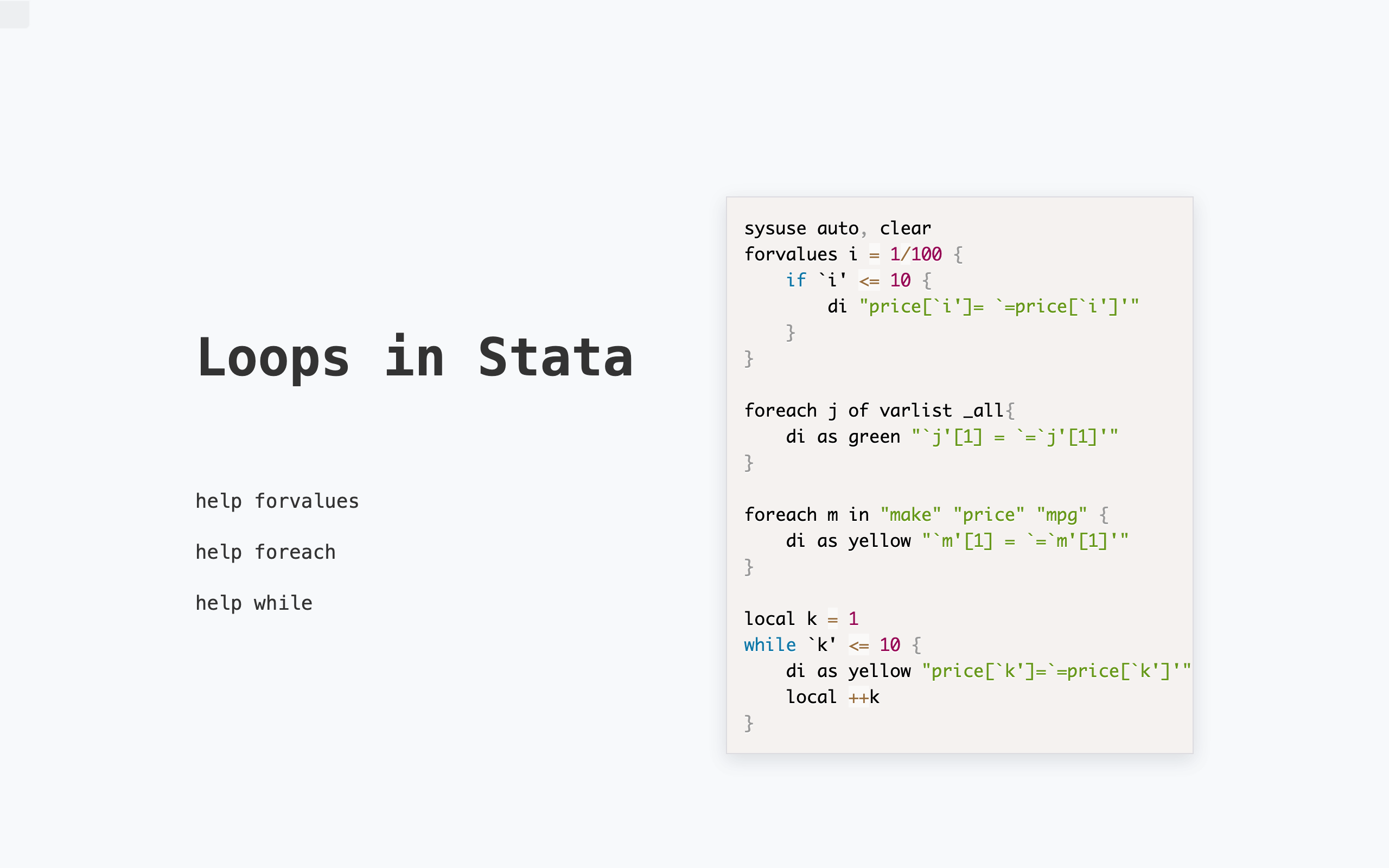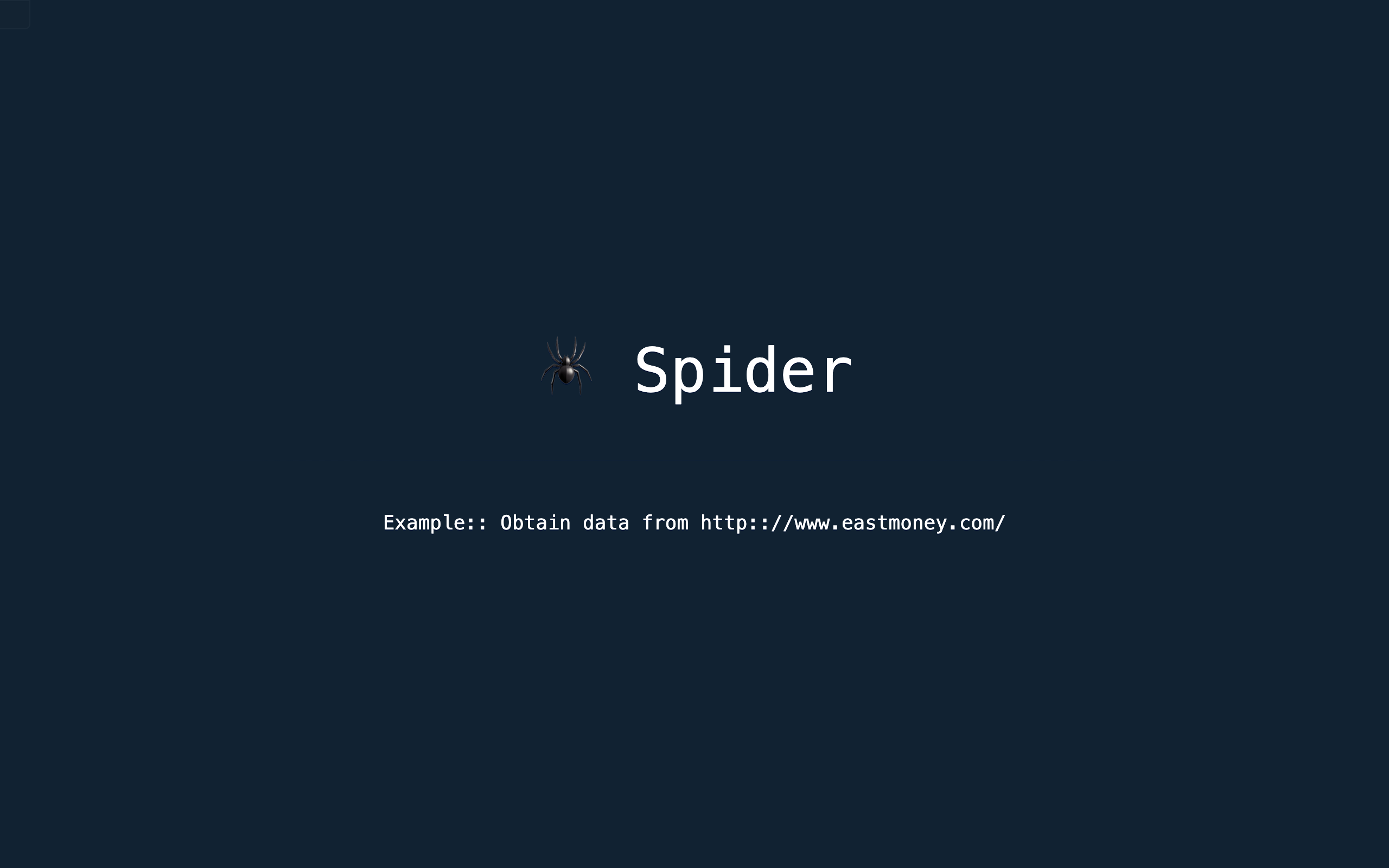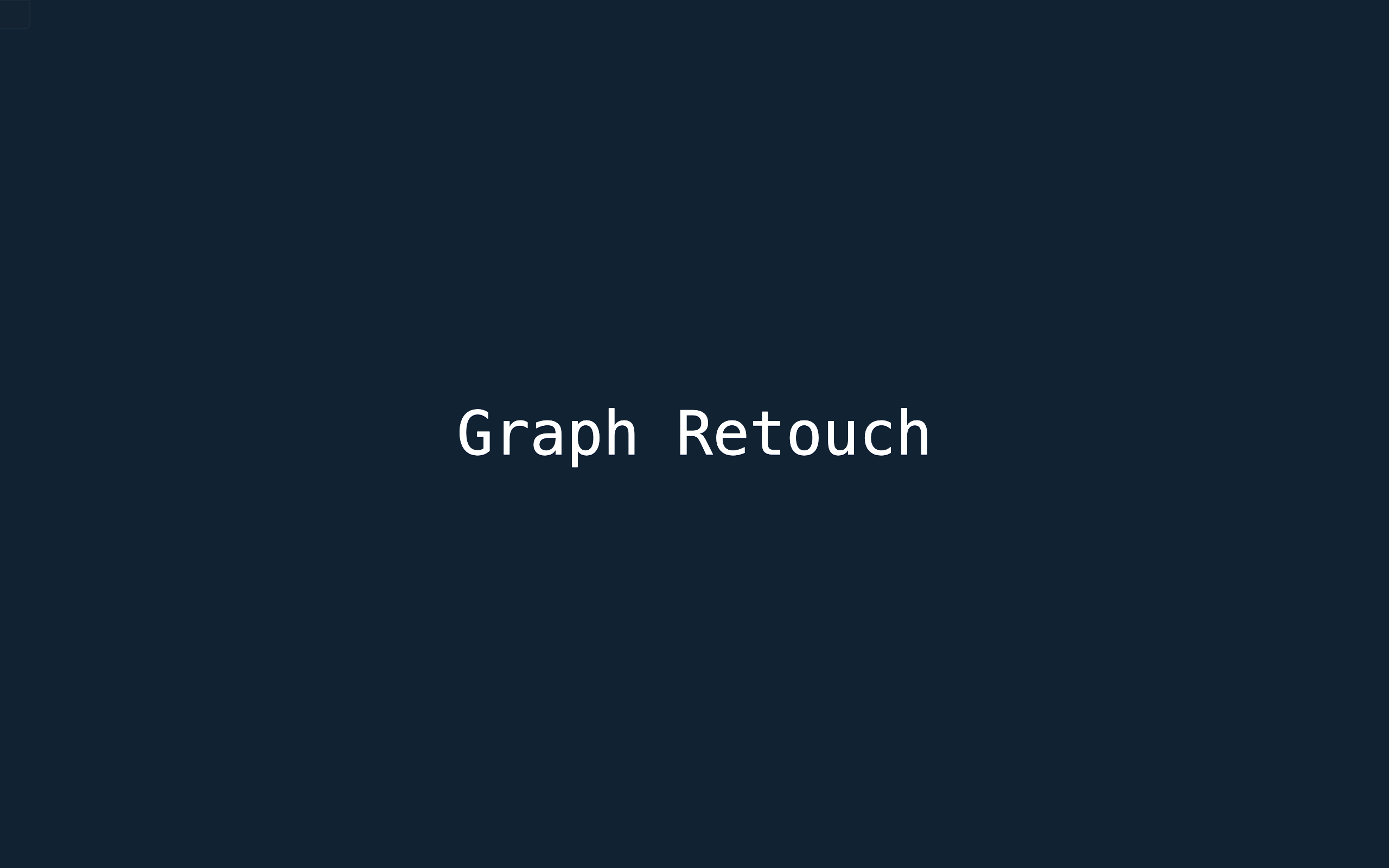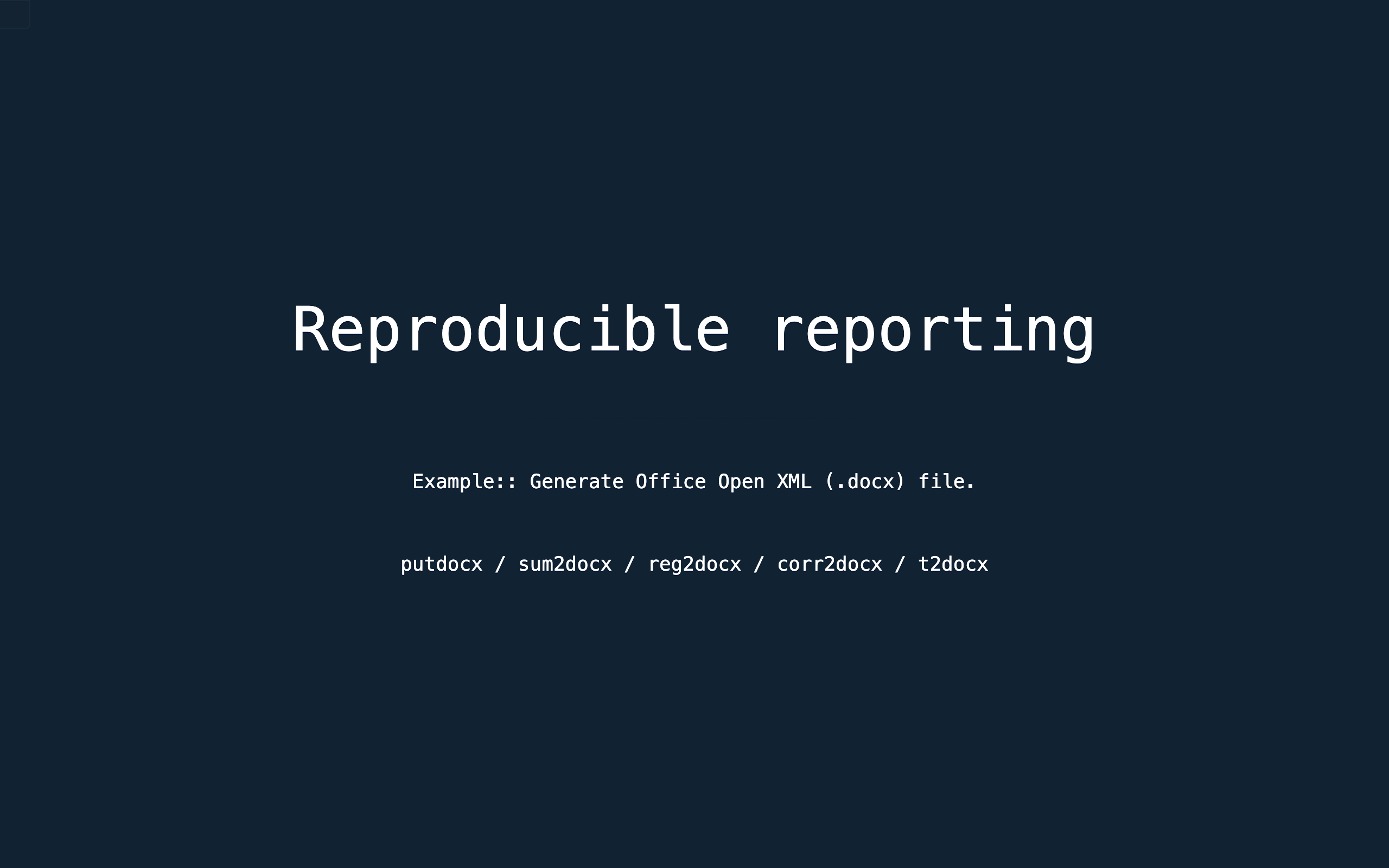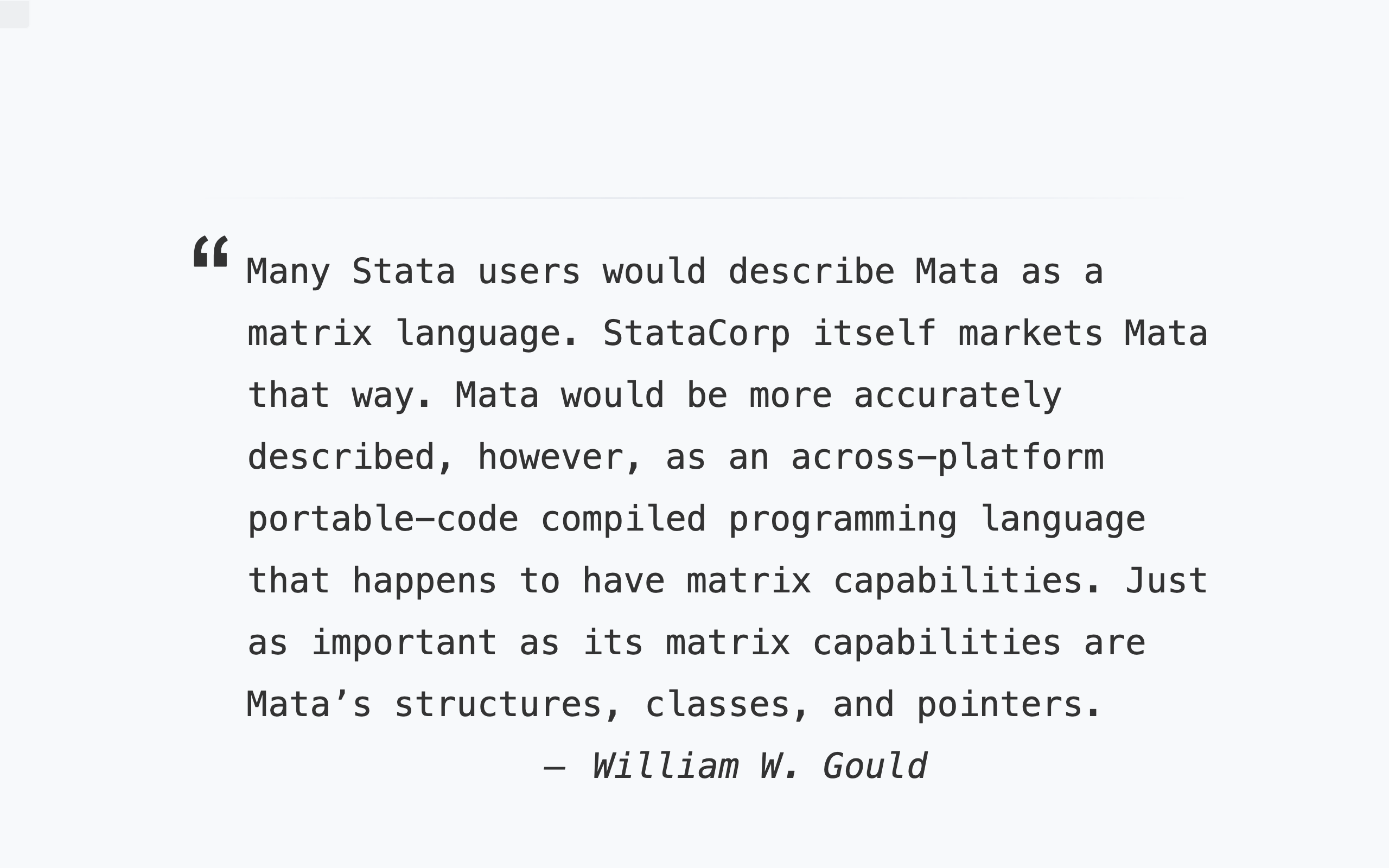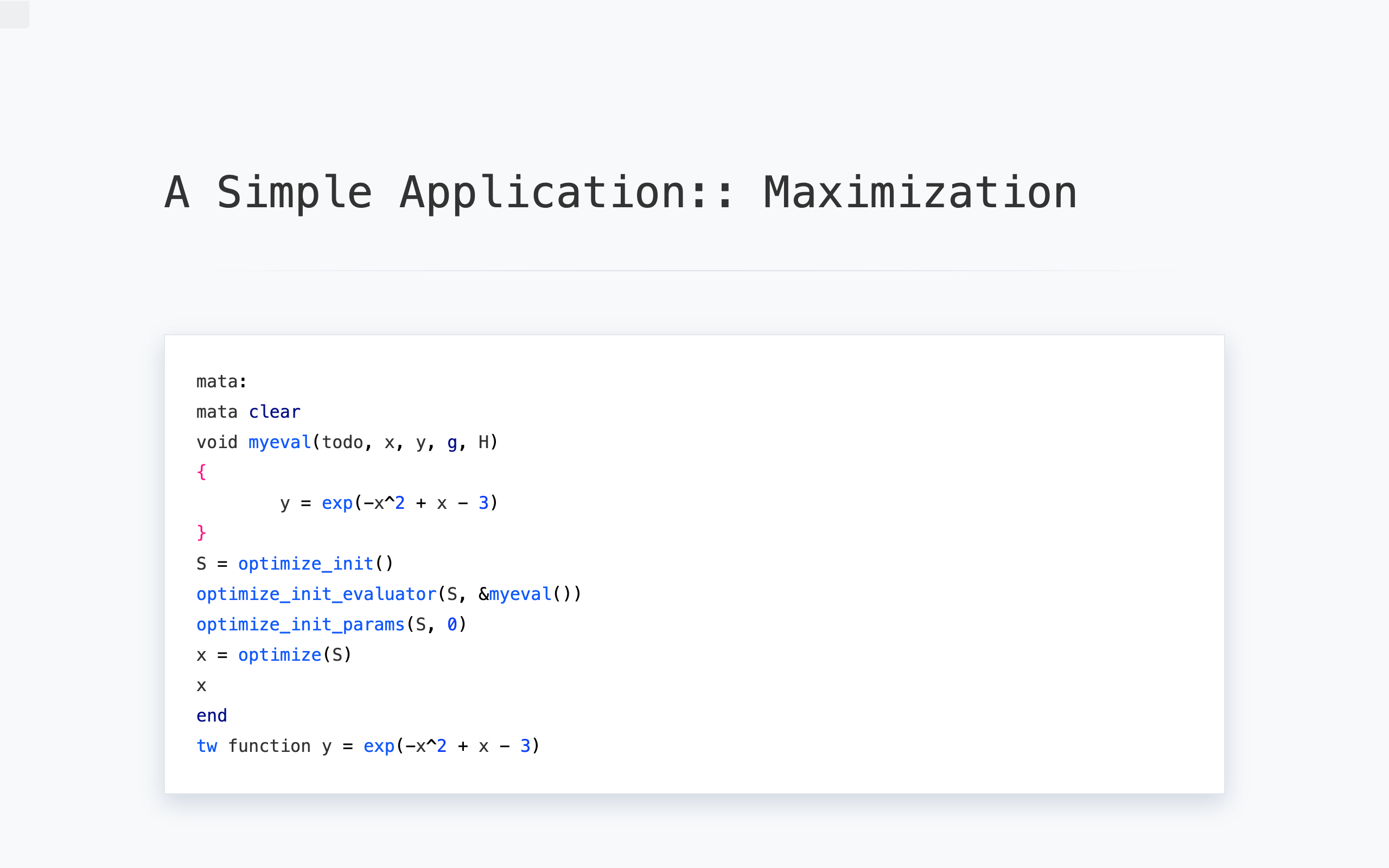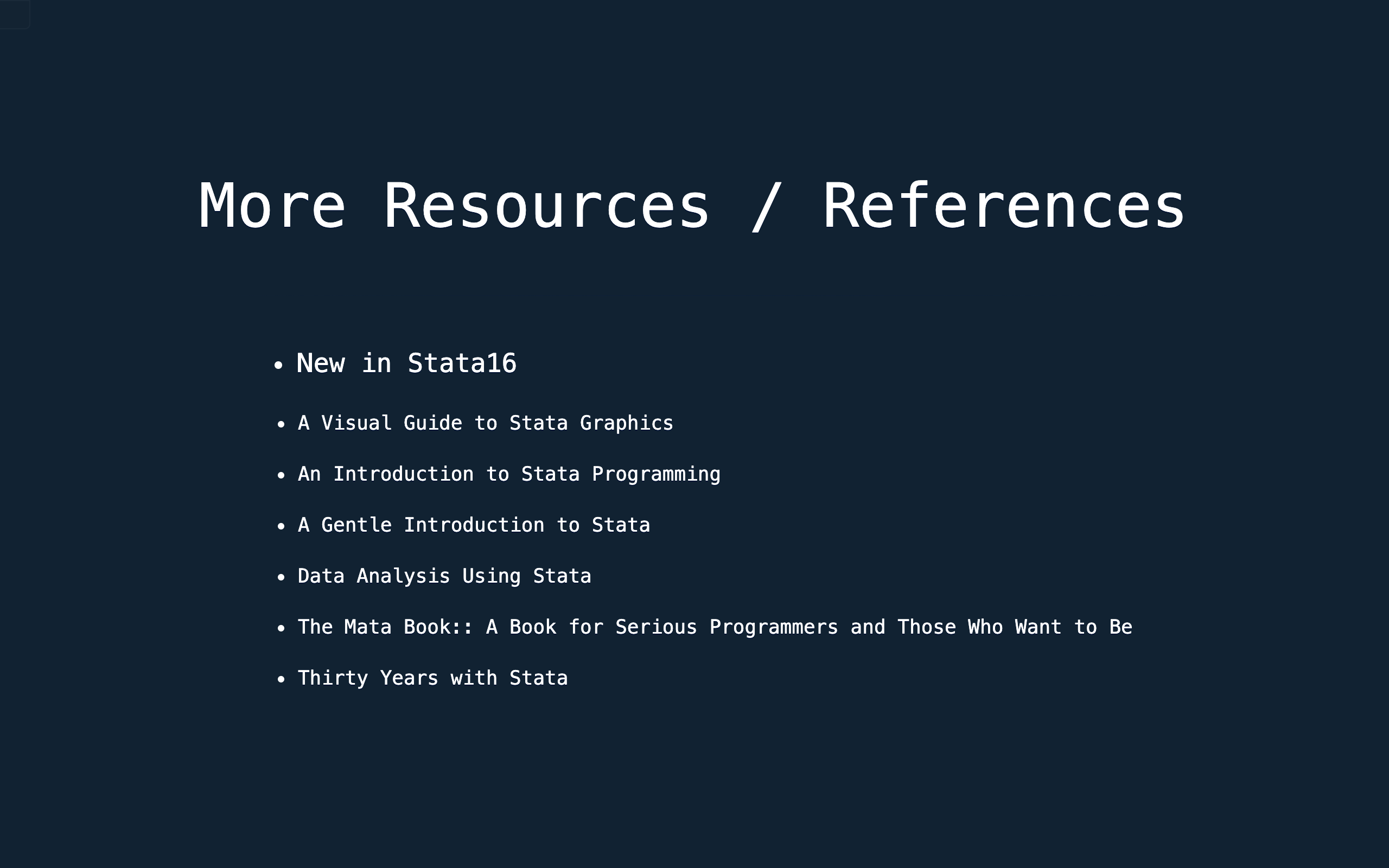 You can browse the online version of the slide using a computer browser: A Brief Introduction to Stata. To get a PDF version, check A Brief Introduction to Stata / PDF version.
Actually, this afternoon, I just explained the first 18 pages of this slide. Here are some Stata codes I wrote during my presentation.
Stata
1




2




3




4




5




6




7




8




9




10




11




12




13




14




15




16




17




18




19




20




21




22




23




24




25




26




27




28




29




30




31




32




33




34




35




36




37




38




39




40




41




42




43




44




45




46




47




48




49




50




51




52




53




54




55




56




57




58




59




60




61




62




63




64




65




66




67




68




69




70




71




72




73




74




75




76




77




78




79




80




81




82




83




84




85




86




87




88




89




90




91




92




93




94




95




96




97




98




99




100




101




102




103




104




105




106




107




108




109




110




111




112




113




114




115




116




117




118




119




120




121




122




123




124




125




126




127




128




129




130




131




132




133




134




135




136




137




138




139




140




141




142




143




144




145




146




147




148




149




150




151




152




153




/* 清空内存 */




* 清楚所有数据、变量




clear

 all 

// 清空内存




/* 查看当前工作目录的位置 */




pwd




/* 设定工作目录为 ~/Desktop/dataset */




cd

 ~/Desktop/dataset



/* 调用系统数据集 */




sysuse

 auto, 

clear




/* 保存为 auto.dta 数据 */




save

 auto, 

replace





/* 一定要设定好工作目录,然后把所有的数据文件放在工作目录下 */




use

 auto, 

clear




cd

 ~/Desktop


use

 auto, 

clear




use

 ~/Desktop/dataset/auto, 

clear





clear

 all


pwd




cd

 ~/Desktop


sysuse

 auto, 

clear




save

 auto, 

replace





use

 auto, 

clear





/* copy */




/* 把 ~/Desktop/dataset/auto.dta 拷贝到 ~/Desktop/auto2.dta */




copy

 ~/Desktop/dataset/auto.dta ~/Desktop/auto2.dta, 

replace




copy

 

"https://czxb.github.io/mr/pingan.csv"

 

"pingan2.csv"

, 

replace




copy

 

"http://data.eastmoney.com/cjsj/pmi.html"

 temp.txt, 

replace





/* 导入csv格式的数据 */


import delimited using 

"pinga n2.csv"

, 

clear




save

 pingan, 

replace




erase

 

"auto.dta"


export delimited using 

"pingan3.csv"

, 

replace





copy

 

"https://czxb.github.io/mr/grilic_small.xls"

 ., 

replace


import excel using grilic_small.xls, 

clear

 firstrow



infix

 strL v 1-20000 using temp.txt, 

clear





clear


unicode encoding 

set

 gb18030
unicode 

translate

 temp.txt


unicode erasebackups, badidea





/* 数据管理 */




sysuse

 auto, 

clear




describe




des




list

 price 

in

 1/5


list

 

in

 1/5


list

 

if

 _n <= 5


generate

 id = _n


order

 id


gen

 

total

 = _N 


order

 

total




list

 price weight, noobs


list

 mpg weight 

if

 mpg > 20


list

 mpg weight foreign 

if

 !foreign


list

 mpg weight foreign 

if

 ~foreign


list

 mp wei foreign 

if

 mpg > 20 & !foreign | weight > 4000


list

 mpg 

if

 mpg <= 40 & mpg => 20


list

 mpg 

if

 

inrange

(mpg, 20, 40)


list

 mpg 

if

 

inlist

(make, 

"AMC Concord"

, 

"Buick LeSabre"

, 

"Chev. Impala"

)


gsort

 price


gsort

 -price


gsort

 rep78 price


sort

 price



codebook

 price


keep

 price


gen

 dum = (price > 3000)


replace

 dum = 0 

if

 price < 5000


gen

 price2 = price^2


gen

 

total

 = 

sum

(price)


egen

 total2 = 

sum

(price)


egen

 total3 = 

total

(price)



sysuse

 auto, 

clear




keep

 price rep78


bysort

 rep78: 

egen

 

mean

 = 

mean

(price)


bysort

 rep78: 

egen

 std = sd(price)


egen

 rowmax = rowmax(price-

mean

)


gen

 temp = price 

if

 rep78 == 1


gen

 temp2 = price 

in

 1/2


replace

 temp2 = price^2 

if

 rep78 != 1



rename

 price price2



keep

 

if

 rep78 == 1



sysuse

 auto, 

clear




keep

 price rep78


keep

 

if

 rep78 == 3 & price >= 5000


drop

 

if

 rep78 != 3 | price <  5000



sysuse

 auto, 

clear




su

 price


return

 

list




display

 

r

(

mean

)


display

 

r

(

mean

) + 1000


display

 

in

 yellow 

r

(

mean

)


display

 

in

 green 

r

(

mean

)


display

 

in

 white 

r

(

mean

)


display

 

in

 red 

r

(

mean

)


display

 

as

 

input

 

r

(

mean

)


display

 

as

 

error

 

r

(

mean

)


display

 

as

 text 

r

(

mean

)


display

 

as

 result 

r

(

mean

)


di

 1 + 1


di

 4^2



hist

 price, bin(30) freq


help

 

twoway

 bar 


graph

 bar price, over(rep78) over(

for

) 

missing




graph

 bar price, over(rep78) 

missing





tabulate

 rep78, 

summarize

(price)


clear




input

 rep78 

mean




1   4564.5




2 5967.625




3 6429.233




4   6071.5




5     5913




end





twoway

 || 

///




scatter

 

mean

 rep78 || 

///


bar 

mean

 rep78 || 

///




line

 

mean

 rep78, xtitle(

"1978年汽车修理的次数"

) 

///


	ytitle(

"平均价格"

) 

///


	yla(4000(1000)7000, 

format

(%6.2f)) 

///


	title(

"汽车价格与修理次数的关系"

) 

///


	subtitle(

"2019年9月9日"

) 

///


	caption(

"数据来源:Stata"

) 

///


	leg(

order

(1 

"散点图"

 2 

"柱形图"

 3 

"线图"

) pos(11) row(2) ring(0))



sysuse

 auto, 

clear




gr

 pie price, over(rep78) missing sch(uncluttered)


gr

 export pie.svg, 

replace




gr

 export pie.png, 

replace




gr

 export pie.pdf, 

replace





sysuse

 auto, 

clear




reg

 price weight


tw

 

sc

 price weight || 

///


	

lfit

 price weight, xla(0(1000)5000) lp(*40) || 

///


	function 2.044063 * x - 6.707553, 

range

(0 5000) lc(red)